My Sunny Visa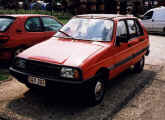 To keep the spirit of the 2cv as an economical "vehikel", I found myself in 1999 this 652cc-powered Visa Cit'. Fitted with a Webasto-roof it sure has all the fun of a 2cv. And although it may lack the looks, it is a lot cheaper to purchase and maintain then all those overprized "deusjevoo's" nowadays.
About the roof :
It is an original late 70-ties model, manually operated, sliding, canvas roof / ragtop from Webasto. The "Tudor"-model.
(approx. size 880 x 910 mm)
| | |
| --- | --- |
| At the time it was fitted in R4's, Mini's, Ami's, ... | To proof that everything is waterproof, I pushed the car through the car-wash. |
| | |
Fittting can take place in 1 afternoon.
First you unpack the canvas-roof. And dismantle the side-strips with wooden-bars. They will come on the inside of the car later.
Watch out that you keep the rest together, because, while manipulating, it could easily fall apart. You can best mark them Left / Right, Front / Rear.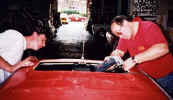 Then you start with cutting the cars rooftop open, helped by a paper-model or the steel frame, to position the right cut-out. Best is to keep 15 cm away from the front windscreen.
After cutting the big hole, you need to cut out several small bits/slots, where the bolts will come later. Don't be afraid to oversize, you need 1 or 2 cms extra around to have a perfect fit. Best is now to apply rust-proofing on the edges.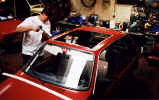 Once all that done, you apply some silicone-kit to assure an extra waterproofing. Fit the roof and start bolting front and rear. Don't tighten too much. Stretch out. Apply the sidebars. Position the rooftop well an try opening and closing. If this goes well, tighten the nuts all around.
Then you take the steel cables at the rear, pull them and fix them in the foreseen bolts. Now you take the inner lining, cut it eventually and pin it to the rear wooden bar.
If the car has a cloth ceiling, you can attach that to the wooden frame around. And to finish it all off, you clip the big square over it.
Voilą!
If in doubt when installing, you can contact Guy@abarth-gmr.be .
---
There was a new-old-stock of over 200 of these sunroofs distributed all over the world in 2005/2006. Within time I hope to show you here an extensive fotogallery of the installations.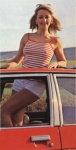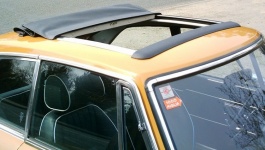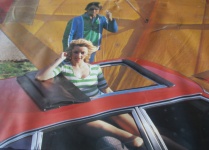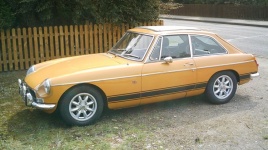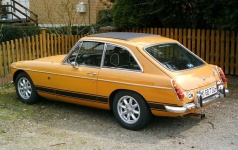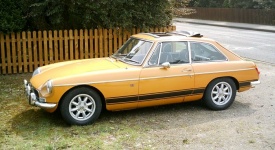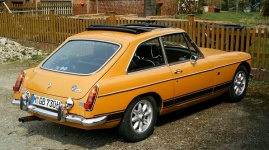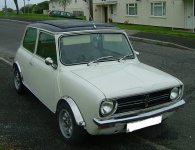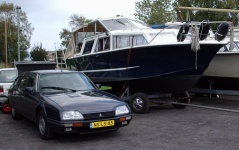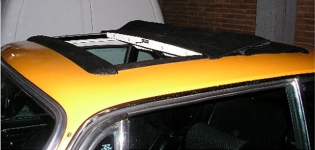 ...
---
This red Visa is no more. The roof went to an Ami, the engine revived another Ami and some parts were recuperated by other Visa-owners. I stepped from the red into a white Visa, end 2001.

And that one is now taken aside to focus on the "new"family vehicle; a BX C-matic.