Retro 2 CV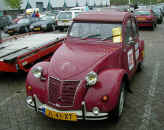 After selling my Black & Chrome 2CV, I was decided to put all my time and money in the Lomax 424-project.
But I couldn't say no to a little beauty like this one ...
It is an originally Belgium-build body of a 1962 2CV AZL.
It has suicide doors and extra build-up 3th side-windows. Also some funny little extra features as a cranking handle, fixed on the bulkhead/firewall.
Having almost all the parts together, but lacking the time to put everything together, I passed this project on to Gerjo K. The result is what I expected it to be :
A fun-car with links to the past, powered by a 602/652cc engine.