Charles Bechoux - Racing Pilote
Some years ago (1997), we passed by an extra-ordinary garage in the Ardennes.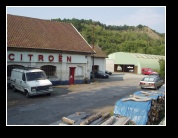 We discovered a racing 2cv, powered by a flat-four engine. Driven in the eighties by Charles Bechoux, and friends.
1 of 3 prototypes was still present in the garage.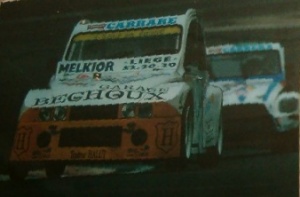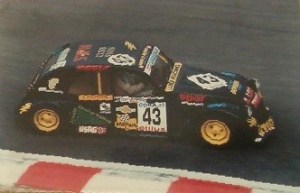 Recently (2003) we passed by again, and wrote down some more details and took some pictures. Enjoy!
1300cc GS-engine

1015cc GS gearbox

Modified crank case to keep the oil in place while taking curves

camshaft and crankshaft altered

clocked at 200kms/h

130 horsepower proven
The moulds for the flip-top-front and rear mudguards are still around. The guys from "la vie à Deuche" should know more...

This Mehari-body has been mounted on the flat-four too. And has raced the circuit of Zolder, beginning of the eighties. Having a flat-four Ami Super-chassis available myself, I hope some day Mr. Bechoux allows me to restore this beauty to keep it on Belgian roads.