CITROËN-garage / TEXACO-naftstation
Jacques Meekers at Beringen.


Every now and then you come accross them.
Abandoned garages, with all stock present, as from the day they closed down.
Zo nu en dan kom je ze nog tegen. Garages waar de tijd bleef stil staan...
anno 2004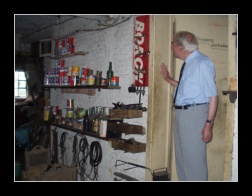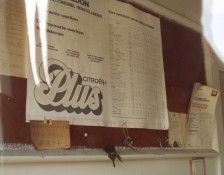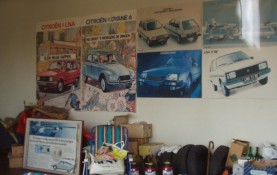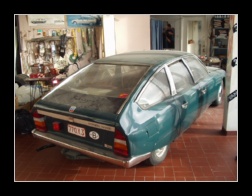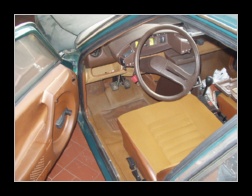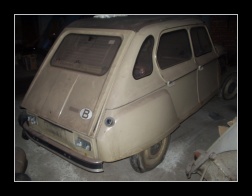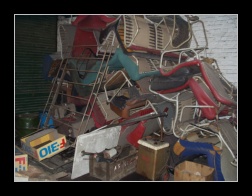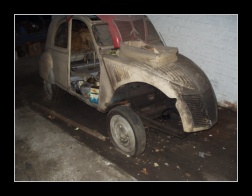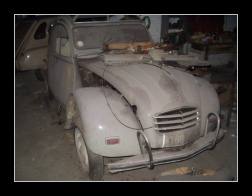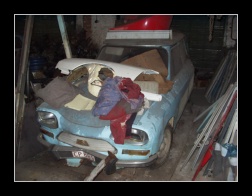 As is the case for this one.
Citroën agent for years and years, but then closed because of retirement.
The man still lived there in 2004 and had no hurry cleaning up or selling out.
At the age of 101, he finally gave in...
Zo ook voor deze locatie.
Jarenlang Citroën-agent en dan gesloten wegens pensioen.
Mr. M. woonde anno 2004 nog steeds bij de garage en kon geen afscheid nemen van al dit blik.
---
As all the items in the shop and garage have there own history, these motorcycles stand out.
At the time (mid-fifties) Mr. M. had to go and collect them by train and drive them back to B.
One has 78 kms on the clock, the other a bit less, since there was no detour at that time.
(a quick glance at the nowadays routeplanner shows a 62,1 kms distance)
Alle voertuigen in de garage hebben hun eigen verhaal.
Zo bijvoorbeeld deze 2 Gillet-motorfietsen.
Eerst met de trein naar Herstal,
dan naar huis gereden en nooit verkocht vanwege het opkomend succes van de vierwieler.
| | | | |
| --- | --- | --- | --- |
| | | | |
| 175cc Légia 1953 (first model) | Gillet-Herstal logo | 200cc Belgica (Superconfort) | 78 kms ! |
These 2 models were the last to be manufactured by the famous Ateliers de Gillet at Herstal, founded in 1919. In 1959 they closed down.
Other Belgian makes in the region of Luik/Liège/Luttich at that time were FN and Saroléa.
A very good source of information is the book "De GILLET Herstal Motorfietsen, 1919-1959" from Yves Campion, distributed by "Uitgeverij Freson".
The '54 Belgica is nowadays the pride & joy of the président-refondateur of the royal Auto-Moto-Club Contich 1911.
The '53 Légia has wandered off, but is still in Belgium, somewhere...
Tegenwoordig is de Belgica de trots van de président-refondateur van de royal Auto-Moto-Club Contich 1911.
Na 50 jaar stilstand, ondertussen toch anno 2013 zo'n 1.500 km op de teller.
De Légia is wat afgedwaald, maar nog steeds in België...
While looking for the missing parts from the Belgica, we came accross some more interesting items...
Op zoek naar de ontbrekende onderdelen op de Belgica, kwamen we nog wat verrassingen tegen.
---
As Mr. Meekers is no more (since 2011), his grandson Koen wants to commemorate him with a meeting.
More info at www.CitroJumble.be
2011 overleed mijnheer Meekers op de gezegende leeftijd van 101.
Zijn kleinzoon Koen wil dit gedenken met een meeting.
Meer info : www.CitroJumble.be
last update : 14/04/2013