GILLET-HERSTAL BELGICA (& Légia)

---

---

The collection - La collection - de Verzameling:

Gillet-Herstal Motorfietsen 1919-1959

De Belgische motorindustrie was ooit toonaangevend in de motorwereld. Deze industrie ging van start in het begin van de 19e eeuw, om een stille dood te sterven tussen 1960-1970. De belangrijkste merken waren te vinden in de streek van Luik. Met name FN, Saroléa en Gillet. In de beginjaren was Minerva te Antwerpen ook een belangrijke speler op de markt.

Gillet-Herstal was een van de drie grote Belgische motormerken.(naast Sarolea en F.N.) De toevoeging 'Herstal" was ter onderscheiding met het in Parijs gebouwde merk 'René Gillet".
De reden dat de drie grote merken zich alle in, of vlakbij Herstal bevonden had te maken met het feit dat Herstal het centrum voor de wapenindustrie was, en dezelfde precisie in metaalbewerking was nodig voor de motorindustrie. Bijna twintig jaar nadat F.N. en Saroléa met de fabricatie van motorrijwielen waren begonnen, werd in 1919 de 'SA des Ateliers Gillet' ofwel het 'Ateliers Gillet' opgericht. Desire Gillet was grootaandeelhouder en zijn zoon Leon was directeur van de fabriek....
Gedurende de economische crisis werden verschillende tweetakten uitgebracht zoals een 175cc met accu-ontsteking, driebak en vaste kop. Verder produceerde men nog een 100cc als inbouw voor andere merken. Het assortiment werd nog verder uitgebreid met een 125cc en 175cc, waarvan ook een damesmodel werd geleverd. Met name door de Nederlandse (Sparta, Batavus ea) concurrentie zijn deze modellen nooit zo succesvol geworden als men had gehoopt.
Na WO II heeft Gillet eigenlijk nooit meer een rol van betekenis gespeeld. Er werden nog enkele modellen geintroduceerd, waaronder een tweetakt Toerisme en een viertakt Sport (1947). In 1949 werd nog een prototype 500cc tweetakt twin gelanceerd tijdens het Salon van Brussel, maar tot productie is het nooit gekomen. In 1958 was het definitief over met Gillet.

Dezelfde factoren die F.N. en Saroléa uiteindelijk teveel werden (concurrentie en de opkomst van de auto) speelden uiteraard ook Gillet parten. Het tragische is dat Gillet eigenlijk atijd wat in de schaduw heeft gestaan bij F.N. en Saroléa. Motortechnisch was dat zeker niet terecht, maar het feit dat Gillet vaak net een stukje duurder was dan de concurrentie heeft daarbij mischien een rol gespeeld. Overigens vinden Gillet kenners dat logisch omdat volgens hun de kwaliteit ook beter was.

Gillet-Herstal Belgica & Légia 1953-1959

In 1953 wordt de Légia uitgebracht, een nieuwe 175cc waarvan gezegd kan worden dat het ontwerp breekt met de gewoonten van de ateliers Gillet. Het is een realisatie van Marcel Doflein, die na de ziekte van Armand Laguesse het roer van de technische directie heeft overgenomen. Het nieuwe ei-vormige blok verschilt nogal met de tot hiertoe gemaakte waar het carter ongeveer de inwendige delen van het blok volgde. Andere uitstulpingen dan de cilinder zijn er niet te zien. Tweetakt, omdat het merk ondertussen dertig jaar ervaring heeft met dit type krachtbron. Het motorblok is ook het meest originele onderdeel van de machine, die voornamelijk opgebouwd is uit zorgvuldig geselecteerde componenten van voornamelijk Duitse toeleveranciers zoals Bing carburatoren, VDB wielnaven, Ferodo-remmen, Hella & Bosch verlichting, ...

Tesamen met de Milan / SuperConfort is de Belgica (en Légia) 1 van de laatste 'echte' Gillets.

Tekst & gegevens gebaseerd op fragmenten uit diverse websites; o.a. 'Belgische Veteraan Motoren', 'De Gillet Herstal motoren'
en het boek van Yves Campion, 'De motorfietsen van Gillet Herstal', uitgegeven door uitgeverij Freson

---

MY STORY:

At the end of the last century, I came accross a motorbike in a Citroën-garage in Belgian Limburg. To cut a long story short, I found out it was a Belgian manufactured bike (Liège, region Herstal, triangle Gillet / FN / Saroléa), with a typical name; Gillet-Herstal BELGICA. As a royalist, I decided this was the bike for me!
In september 2004 I finally purchased this black Belgica, with only 78 kms on the clock. Some parts were missing, but looking for those parts, the collection grew to some more specimens...
As I'm always on the move and my greatest fun is to find these bikes and get them complete and registered, I sold most of them now and am keeping this Belgian one forever. Together with the Big Fat Gsa-powered French bike.

Ergens op het einde van de vorige eeuw kwam ik toevallig een motorfiets tegen in een Citroën-garage in Limburg. Om een lang verhaal kort te maken: Het was een Belgisch fabrikaat (Regio Luik / Herstal, nabij Saroléa en FN), met de typische naam Belgica. Als royalist kon ik die niet laten staan. In september 2004 ben ik dan deze zwarte Belgica gaan ophalen. Met slechts 78 kms op de teller een prachtig exemplaar. Op zoek naar de missende onderdelen, groeide de collectie aan ...
Omdat mijn grootste plezier het verzamelen en compleet maken is, zijn ze ook 1 voor 1 weer terug vertrokken. Behalve deze dan.

---

Black BELGICA 200cc - 1955 (chassis+engine: 240139)

This is the basic and first version of the Belgica. Model 1954. The wheelcenters are the smallest ever fitted. And 4 pins to fit the rear wheel to the hanging brake and chain-construction. No brandname on the original wheelcenters. The handles are fixed to the steering wheel.
---

Rusty 1 BELGICA 250cc Carenée - 1956? (engine: 280352)

Sold to Didier

90% complete

work to be done / nog te fixen / à arranger:

missing parts:

extra:

1 parts-donor -> rusty 2

fully registered in Belgium / ingeschreven op DIV / immatriculation OK

The most promising one in the lot. In 1 lot, you will have 1 seized but complete engine, and another NOT seized, but incomplet.

De meest beloftevolle uit het lot. In 1 lot met 2 motoren. 1 vastgelopen maar compleet, en 1 met losse piston, maar zonder ontsteking.

Celui qui a le plus potentiel, ça devrait être possible de refaire 1 moteur 250cc tournant avec les 2 livrées.

On eBay there was another one I couldn't resist. I've picked it up in Arlon, end of july 2005. Maybe for a restauration 'dans son jus'.

Op eBay werd er nog zo'n buitenkansje gepresenteerd. Die staat sinds 22 juli 2005 ook in de garagebox. Ideaal voor een restauratie 'dans son jus'. Ondertussen geregistreerd bij DIV en doorerkocht aan Didier.

Definitely a 250cc, if you count the finns on the cilinderhead. 1 more then the 200cc. But the engine is completely blocked, as most of the 250cc models. 6-pin fixing of the rear wheel. Original color was blue. By now fully registered and awaiting restoration, or at least, revival. Dream was to make it a circuit-racer but I sold it and handed this project over to Didier.

Rusty 2 BELGICA 250cc Carenée - 1956? (engine + cadre: 280165)

PARTS-DONOR

CACHE-CARBU's déjà vendu à part / reeds apart verkocht / already sold seperately !

Via internet I spotted this parts-donor, oktober 2007. An exceptional find were the carburettor-covers!

Via Internet, oktober 2007, heb ik dit onderdelenlot gekocht bij P. te L.. Uitzonderlijk zijn de "cache-carbu's" die d'r bij waren!

---

Blue BELGICA 200cc Semi Carenée - 1956 (chassis+engine: 241563)

SOLD / VENDU / VERKOCHT to M. Gérard / Liège - october 2007

100 % complete

work to be done / nog te fixen / à arranger:

New tyres, correct exhausts and some other modifications are done. Completely checked and driven for quite some kilometers. This is not a pricewinner, but a good, driveable bike. Warranty on the engine by Xavier Majois.

Nieuwe banden, juiste uitlaten en nog wat andere dingen compleet gemaakt. Volledig nagezien en aardig wat kilometers gereden. Geen prijswinner maar een goede, betrouwbare motorfiets. Garantie op de motor !

Nouveaux pneus, échappements corrects et d'autre choses complèté. Pas le plus beau, mais fiable. Garantie sur le moteur!

The second one I bought through eBay, was this blue one. The engine has been changed, and gave at first some worries with gearchanging. But this will be fixed shortly. I enjoyed driving this bike through rain and snow on the Gillet-run at Dinant, 2006.

Op zoek naar onderdelen, vond ik deze via eBay in maart 2005. Compleet maar met wat achterstallig onderhoud. Al rijdend werden er de kleine foutjes uitgehaald. Dankzij de familie Majois werd hij voorzien van een gereviseerde motor. Buiten wat probleempjes met de versnellingen, is dit 1 van de betere uit de stal. De Gillet-rit te Dinant-2006 was het eerste publieke optreden.

Here we have a 'carenée' who has lost his chroom/aluminium plating. A cover fitted to hide the carburettor and fill up the gap between the engine and gasoline-tank. Rear wheel is ankered with 6 pins. A more solid solution then the original 4-pin construction. Brandname Pranafa.
---

Stripped BELGICA 200cc - 1957 (chassis+engine: 232181)

| | |
| --- | --- |
| SOLD / VENDU / VERKOCHT to Majois / Binche - 2006 | 60% complete |

Thanks to Marnix, I found a third one, end of june 2005. The frame and engine has been exchanged for a reconditioned engine for the blue one and resides now with the family Majois at Binche. Wheels fit the black one, but are completely worn out.

Eind juni 2005 vond ik dan via Marnix deze te Oostrozebeke. Ondertussen is het frame en de motor geruild voor een gereviseerde motor voor de blauwe. De wielen passen in de zwarte, maar zijn helaas tot op de draad versleten.

Original model like the 1954, so registration of 1957 looks a bit bizar. 4-pin rear wheel fixing. Marked VDB.

---

Rusty LÉGIA 200cc/175cc SuperConfort - 1954 (chassis: 230569)

SOLD / VENDU / VERKOCHT to Henri Snoeck / Thimistère - september 2007

99% complete

refitted with the original 175cc engine (1 exhaust) - terug met originele 175cc motor (1 uitlaat) - moteur 175cc

work to be done / nog te fixen / à arranger:

fixing the 175cc engine / 175cc motor in orde zetten met bijgeleverde onderdelen / fixer le moteur

electrical wiring / bedrading nakijken / réparer l'éléctricité

polishing / opkuisen / polier...

TTo get spare parts for the Belgica, I started looking around for other Légia's. And got hold of this one in Beauraing, april 2007. A bit rough around the edges but it drives really well. It had the 200cc Belgica engine fitted which will serve for restoring the rusted Belgica.

Deze motorfiets stond te verkommeren in Beauraing bij Alain. Hij verhuisde naar Kontich in april 2007. Het is de 200cc Belgica-motor die me interesseerde, maar ondertussen is hij rijdend en wel. De motor is ondertussen gedemonteerd en vervangen door een 175cc.

One of the first Légia's, fitted with the more powerfull Belgica-engine. Small size wheelcenters.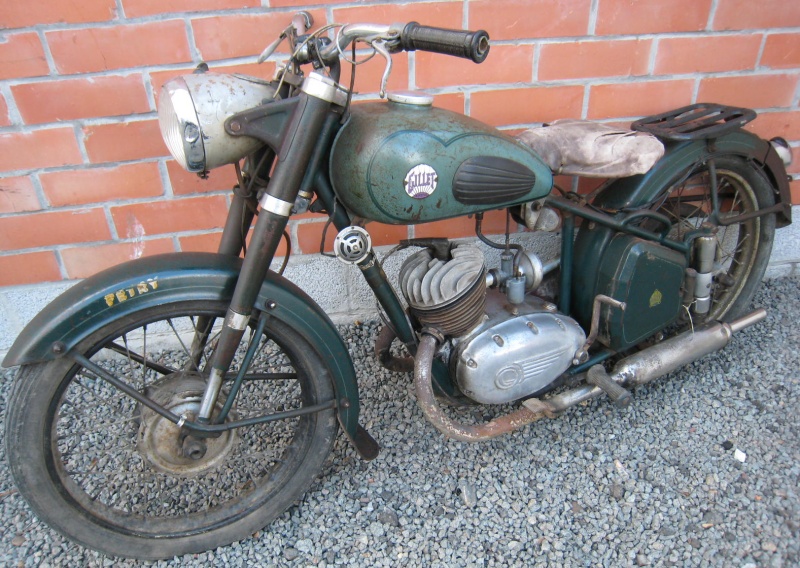 Ondertussen ook geregistreerd bij DIV en 100% streetlegal.
---

New LÉGIA 175cc - 1953 (chassis+engine: 178579)

SOLD to Philippe DJ / Spain - november 2007

100% complete

work to be done / nog te fixen / à arranger:

Completely checked over, completed and fixed where necessary. A real pricewinner, as original as can be.

Rijdt als een nieuwe. Alles nagekeken en gecheckt. 100% origineel af-fabriek. Origineler dan dit vind je niet.

Roule comme neuf! 100% en ordre.

Then the smaller brother of the black Belgica came up for sale, end of 2005. Found together at the time, so with the same low mileage. More photos to see if you click on the pic. Original Michelin-tyres!

Tegen het einde van 2005 kwam het broertje van de zwarte terug te koop. Van dezelfde generatie en familie als de Belgica, maar Légia genaamd. Ongetwijfeld de mooiste, origineelste en compleetste uit m'n collectie, maar helaas, geen Belgica. Met originele Michelin-banden! Meer foto's als je doorklikt hieronder.

Completely original till the last bolt. Even the tyres are from 1953. Michelin!

---
Stripped LÉGIA 175cc SuperConfort - 1953 (chassis+engine: 179105)
| | |
| --- | --- |
| SOLD / VENDU / VERKOCHT to Ragnar Norreels / Nantes (F) - august 2007 | 40% complete |
TThe day after the trip to Beauraing, this project was offered on Kapaza. Not to resist!
Strangely enough very similar to the green 1953-model, but registered 1959. A bit of a hassle to get it registered, since the last, registered owner died in 1988.
Daags na de trip naar Beauraing, stond dit project te koop op Kapaza. Opgehaald te Noorderwijk, april 2007.
Model 1953 maar geregistreerd op het DIV als 1959.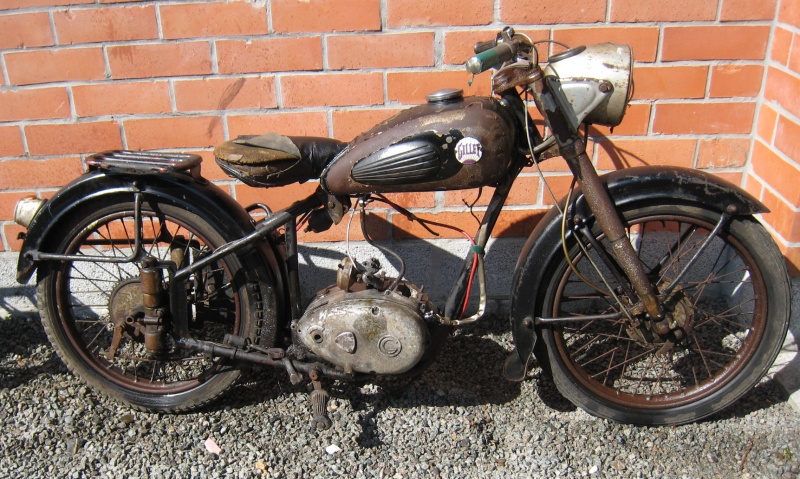 Gestript van alle bruikbare (Belgica-) onderdelen, geregistreerd bij DIV en verkocht via eBay:
---
Red BELGICA 200cc - 1956 (chassis+engine: 240726)
SOLD / VENDU / VERKOCHT to Mr. Delvaux / Namur - oktober 2007

97% complete

work to be done / nog te fixen / à arranger:
June 2007: At last another Belgica for sale on eBay. 400 kms into Germany. Story is that it had been standing in a museum/private collection since the seventies. Tax-plate suggests that it has been rolling around Liège till 1965.
Juni 2007 ben ik dan 400 Duitsland in gereden om deze rode op te halen. Volgens de verkoper uit een private collectie.
Model similar to the 1954, but with the Pranafa 6-pin rear wheel.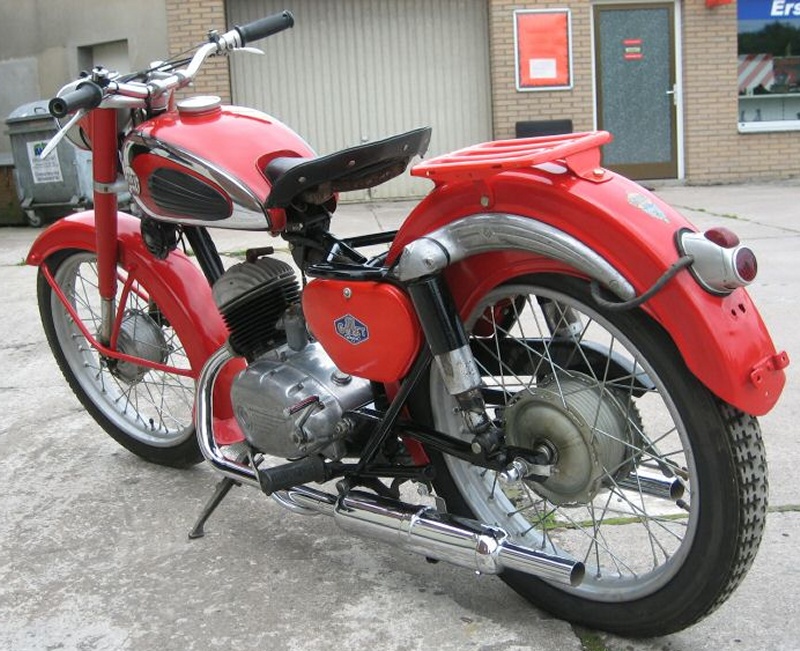 ---

As my greatest joy is to find these bikes, search for the missing parts and get them registered, I did not regret selling them again. Don't hesitate to contact me if you have questions, parts for sale or just want to chat about the Belgica-model of Gillet-Herstal.

Mijn grootste plezier is om dit soort motorfietsen te vinden, te completeren en te registreren. Daarom zijn de meeste nu ook terug verkocht. Als u op zoek bent naar stukken, papieren, of gewoon wat wil vertellen over uw motorfiets, aarzel dan niet en mail me!

---

Because there was a standardisation agreement between the 3 manufacturers from Liège/Luttich/Luik, it would be interesting to find out about interchangeable parts.

...In 1954 werden er door FN met Saroléa afspraken gemaakt t.a.v. technische standaardisatie, gezamelijk aankoopbeleid en distributie.
(Wat echter door de merkvoorstanders als een slechte zaak werd gezien, was het uitwisselen van merkemblemen, zodat FN's met Saroléa emblemen werden uitgerust en vice versa. Vanaf 1956 werd dit dan ook niet meer gedaan.) In 1955 sloot ook Gillet zich bij de afspraken aan...
( info van website Belgische Veteraan Motoren )

So this is an appeal to Saroléa- and FN-experts to help me in my search for a rear wheel !

Saroléa Oiseau Bleu/Blauwe Vogel

other +'55 S-models; Montana / Century / Sash / ...
FN M22/175 & 250cc


---
INTRODUCTION: 1954 - Salon d'Auto & Moto à Bruxelles

MOTOR Sport - 7e jaargang - N° 2 - februari 1954
officieel bulletin van de Belgische Motorijdersbond
... De reeds rijke gamma van de Werkhuizen Gillet werd nog aangevuld met 3 nieuwe modellen. ... De derde nieuwe machine van Gillet is de 200 << Belgica >>, die afgeleid is van de 175cc Légia.
---
---
just click to go to the next page
klik om door te gaan naar de volgende pagina
Send your comments, remarks or appraisal to